Best 3D Media Player Software for 3D Blu-ray, MKV, etc.
The most popular way that allows you to enjoy 3D Blu-ray disc movie via your HDTV is the Blu-ray player device. Even though, there is lot of users who have the need to playback 3D movies on their computer with a Blu-ray drive. For enjoy 3D Blu-ray or other movies, the 3D glasses and 3D output screen are necessary. Furthermore, if you want to watch your 3D movies via your computer or computer based HTPC, the 3D media player software will be essential.
Here we deal with Blu-ray 3D movies, and will introduce you some popular 3D media playback software which also be applied for other 3D media playback. Let's know more about 3D movies. A 3D or 3-D (three-dimensional) film is a motion picture that enhances the illusion of depth perception. Derived from stereoscopic photography, a regular motion picture camera system is used to record the images as seen from two perspectives, and special projection hardware and/or eyewear are used to provide the illusion of depth when viewing the film.
To enjoy Blu-ray 3D via your computer, you need:
1. 3D HDTV (with 3D glasses) ;
2. 3D media player software(like PowerDVD, Total Media Theatre, WinDVD, etc.);
3. Blu-ray drive
4. 3D Blu-ray movies.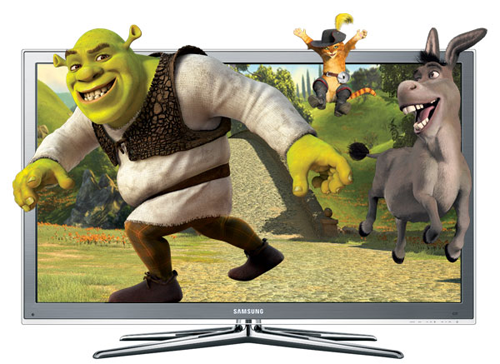 3D Blu-ray Media Player Software recommendation
1. PowerDVD

PowerDVD is the first choice for enjoy Blu-ray 3D or other 3D movies. The latest version is the version 13 Ultra. PowerDVD is the No. 1 Media Player for playback Blu-ray, 3D Video & HD Movie on Windows platform. Its Unique TrueTheater® enhancements let you not only enjoy a vivid 3D movie, but also converts 2D content into 3D, offering a whole new viewing experience for content such as Blu-ray HD movies, slideshows, YouTube videos and more. The depth of the 3D experience can be optimized with easy slider controls to get the best results from your 3D display.
2. Total Media Theatre
Total Media Theatre from Arcsoft is another Blu-ray playback software for enjoy Blu-ray as well as 3D movies on your computer. It allows you to play 3D movies and video files including Blu-ray 3D movies. You can create 3D videos in real-time from 2D videos and DVDs via its patent Sim3D technology. So does the 2D image playback. Other feature like adjusting the depth perception to customize your 3D experience is also available. It is the most user-friendly Blu-ray player software as reviewed from a lot of users.
3. WinDVD
The third one is the WinDVD from corel.com. This tool can deal with 3D Blu-rays with stunning 1080p sharpness and next-generation surround sound. With leading 3D technologies such as Frame Sequential and Polarization 3D playback, you can experience 3D playback your way. Convert 2D DVD-Video, and standard and HD video files and enjoy your movies in full 3D definition for the most lifelike viewing experience!
Hot Tags: Blu-ray ISO Player, Playing Blu-ray on PC, Blu-ray Media Player