Best Blu-ray Media Player for Windows 8, 7, Vista, XP, etc.
As we all know that there are several Blu-ray Media Player for Windows tools available in the market now. Each has its own characteristics which is a little difficulty for users to choose the most appropriate one. As for the usability and cost performance, I want to recommend a Windows Blu-ray Media Player for you – Aurora Blu-ray Media Player. To enjoy Blu-ray media with the popular tools like PowerDVD or Total Media Theatre, you should make sure your entire configuration (hardware and software) compatible with Blu-ray playback standard. That mean the output device, cable, blu-ray HD decoder, drive, etc. must all support deal with the Blu-ray/HD data. Aurora Blu-ray Media Player for Windows has the same Blu-ray HD Decoding Capability with the tools above, but it has no limitations for the cable and output device. It means that even you are using an old monitor, can you still enjoy Blu-ray movies directly.
We introduce this Windows Blu-ray Media Player for you because of its ease of use. There is no special knowledge or skill need for playback Blu-ray media with Aurora Blu-ray Player. What you should do is just to insert Blu-ray into your Blu-ray drive and the media player will deal with the rest.
Another point you should choose Aurora Blu-ray Media Player is its cost performance. Unlike other tools' subscription payment model, this player makes users own lifetime version after order from Aurora Official Online Store. After registration, users will enjoy the lifetime free email support and upgrade service(like Blu-ray menu, 3D playback, etc.).
Also other features are built-in with this Blu-ray Media Player, for example, the social media sharing which allows you to share the Blu-ray movies with your friends via Facebook and Twitter. The perfect support for Blu-ray DTS-HD allows you to output(pass through) 7.1 surround sound vividly. To get this, you need an AMP that supports DTS HD 7.1 and HDMI 1.3 or later. (The optical output can only support up to 5.1 channels).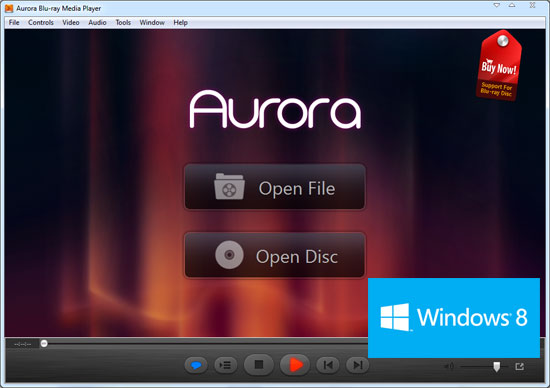 A Brief Summary of Configuration for your Blu-ray Playback
1. Microsoft® Windows XP (SP2 or later), Windows Vista, Windows 7, Windows 8
2. Intel Core2 Duo 2.4GHz processor or equivalent AMD Athlon™ processor or higher recommended
3. Blu-ray Drive for Blu-ray disc Playback
4. Internet Connection for original Blu-ray playback
5. HDMI 1.3(or later) and AMP that support 7.1 for DTS HD output
As a simple and practical Windows Blu-ray Media playback tool, Aurora
Blu-ray Media Player
can be used as Blu-ray disc movie player, standalone Blu-ray ISO movie player, standard Blu-ray folder player as well as an all-in-one media(DVD, HD movies, video, audio, etc.) player on windows platform. Just free trial it now.
Related Tutorials: