Free Blu-ray ISO Burner for Mac - Burn ISO from Mac
To burn ISO image on Mac is very easy now owing to the Disk Utility that is included from Apple on every Mac. With the tool, Mac users can easily burn the ISO into CD or DVD files. But now, with the Blu-ray more and more popular, people may have the need to make Blu-ray from ISO image files. At this time, a free Blu-ray ISO burner for Mac is very necessary.
The Aurora Blu-ray Copy for Mac is the tool you should choose. It is a free ISO burner for Mac. You can use it to backup Blu-ray disc into ISO on Mac as well as burn ISO image from Mac. This Blu-ray ISO Burner for Mac is very easy to handle. Before proceeding, it will be helpful to place the Blu-ray ISO image somewhere that you can access it quickly. What's more, it is also necessary to know where it's stored proceeding. Below is the way to burn Blu-ray ISO image on Mac:
Preparations:
1. Aurora Blu-ray Copy for Mac
2. A recordable BD drive
3. A blank rewritable/writable Blu-ray disc
4. Blu-ray ISO image file
Instructions
Step 1: Free download and install the Aurora Blu-ray Copy app on your Mac. Run it as follow: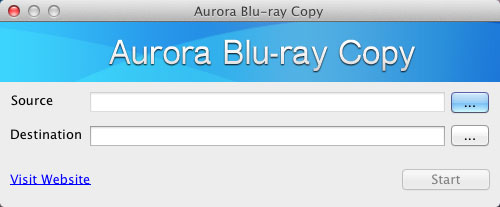 Step 2: Connect your BD drive with your Mac via USB, insert the Blu-ray disc into the drive.
Step 3: Click on the "ellipses (…)" Source button to load the Blu-ray ISO image file you want to deal with.
Step 4: Click the "ellipses (…)" Destination button to choose the destination Blu-ray drive. Then click on the "Start" to begin burning Blu-ray ISO image into a disc.
It is really simple, and that is all it takes. The time for burning depends on how fast the drive is and how large the ISO image is.
The tool is now completely free and available on both Mac and Windows. It is highly compatible with the latest Windows 7 and Mac OS 10.8. Just to download and try it now.
Related Tutorials: