The Most Easy and Simple to Use Blu-ray Playback Software
Why we need a Blu-ray Playback Software? With the popularity of Blu-ray format in the common home entertainment, there is only a few computer systems are sold with Blu-ray drive. Even with Blu-ray drive, the integrated media player software has not the enough ability to play Blu-ray discs especially for the latest Blu-ray films. Blu-ray player software is an inexpensive and more convenient way for common users to enjoy the latest Blu-ray movies on their computers.
With the help of a Blu-ray drive, Blu-ray software allows you to view BDs on any desktop computer, notebook and home theater system. There are some types of the computer sold with the internal Blu-ray drive, or, you have to install an external one. There are only a few worthy BD player software packages on the market. We rounded them all up, and after extensive research and testing, we found that the best applications available are Cyberlink's PowerDVD 12 Ultra, WinDVD Pro 11 and TotalMedia Theatre 5.
All the above three are professional-class Blu-ray playback software, which may be a little complicated for operation. If you are using the version bundled with the Blu-ray optical drive, you player may not be deal with the latest released Blu-ray movies. While it is not cost-effective for buying the retail version of the software as you have to subscribe the future usage and upgrade. Here is also some other Blu-ray applications available in the market, for example, the Aurora Blu-ray Media Player.
As the most simple and easy to handle Blu-ray playback Software, the Aurora Blu-ray disc software allows you enjoy all types of Blu-ray media on your Windows platform like Blu-ray disc, Blu-ray ISO, standard Blu-ray folder, etc. Compare to other three professional Blu-ray player software, Aurora is really simple but very practical.
Below is a simple way to enjoy Blu-ray with Aurora Blu-ray Playback Software
Step 1. Free download and install Aurora Blu-ray Media Player
Step 2. Make sure you have installed a Blu-ray optical drive with your computer, insert the Blu-ray disc you want to deal with, the player will load it automatically.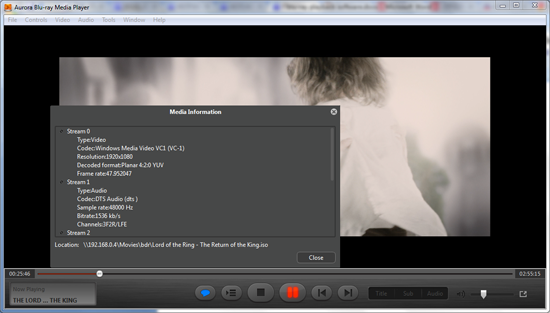 Step 3. After loading, you can click "Play Movie" to enjoy the Blu-ray main movie directly. If you want to enjoy the extra features like introduction to the trivia and director, you can check the other feature option.
Step 4. There is also other feature available with this Blu-ray playback software, for example, you can click "Window – Media Information" to check the film encoding information.
Aurora Blu-ray Media Player is all functional Blu-ray playback software which not only allows you to enjoy Blu-ray media but all other DVD, HD media, video, audio on Windows 8, 7, Vista, XP. Just free download and try it now.
Hot Tags: Blu-ray ISO Player, Playing Blu-ray on PC, Blu-ray Media Player