How to Play Blu-ray Disc on Mac
Does the ever-so-complicated process of playing Blu-ray movies on Mac still bother you? Never mind, as a new fabulous player, the Aurora Blu-ray player, has come into use.
Aurora Blu-ray Player is the world's best universal Blu-ray player for Mac across the global. It is of powerful functions and high technology. It is perfectly matched with Mac system, especially the Mac OS Lion system. It can support all media formats of movies, videos and audio files, music and pictures. After DTS5.1, Aurora Blu-ray Player can bring you Mac to the amazing Blu-ray experience.
If you want to enjoy your Blu-ray movie, only four steps need to be followed.
Step 1:Network Connection
First off, you need to be connected to the Internet so that the software can decode the copy-protection used on the discs.
Step 2:External Blu-ray Driver.
You should have a Blu-ray driver. You can buy one in stores or from amazon online. The USB of the driver should be above 2.0. Connect the driver with Mac via USB connection.
Step 3:Download
Download Aurora Blu-ray Player and then install it.
Step 4:Operation
Insert your BD into the Blu-ray driver. Next, open your BD just by pressing the 'Open Disc' button and select the output path where the disc is to be stored. At this moment you can enjoy your Blu-ray movies on Mac, depending on what you like.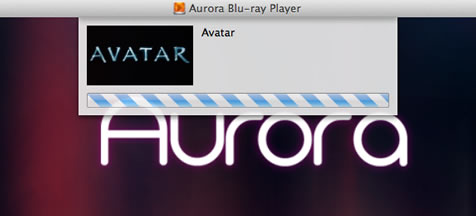 In addition, there are some advanced interfaces for advanced configurations for the output settings. These interfaces allow you to set parameters regarding title, subtitle and audio.
As long as I finished playing, I would share it with friends and family or post my suggestions or reviews about the movie to Facebook or Twitter through a button 'share'.
Related Tutorials: