Blu-ray Media Player for Mac - Play Blu-ray, DVD, video, audio
No matter you are Mac or Windows users, a Blu-ray Media Player is the necessary tool for you. With the development of HD technology, more and more movies are produced with Blu-ray version. The large storage capacity makes Blu-ray disc the best medium for storing High Definition digital content. You can use a Blu-ray player device to enjoy the Blu-ray disc movies. Also you can enjoy them via your HTPC with a Blu-ray drive and Blu-ray player software. There is a lot of excellent Blu-ray playback software available on the Windows platform like the PowerDVD, Total Media Player, WinDVD, etc. All are powerful and stable. But for Mac users, there are only limited numbers.
As we all know that, Steve Jobs hold "a big bag of hurt" for the Blu-ray, so as for now there is no supporting for Blu-ray for Apple computer naturally. To enjoy Blu-ray on Mac, both an external Blu-ray drive and the Blu-ray media player for Mac are essential. Unlike the Windows tools, there are only limited apps supporting playback Blu-ray on Mac directly. Aurora Blu-ray Player is one of them. As an all functional Mac media player, the tool can be used as Blu-ray media player, DVD media player, music media player, etc. which allows you to enjoy Blu-ray ISO/disc, DVD ISO/disc, HD movies on your Mac very easily.
Compare to the Windows Blu-ray player software, the Aurora Mac media player has a very simple user interface. That means users of all level can master it very qucikly. Only a few simple clicks, Mac users can enjoy Blu-ray HD movies on their iMac, Mac Mini, Mac Pro, MacBook very smoothly.
Below I will give a simple tutorial for all Mac users' reference. Before playback the Blu-ray, you should make sure there is a Blu-ray optical drive connected with your computer and the Internet Connection is well.
Step 1. Free download the Aurora Blu-ray media player for Mac and install it on your Mac.
Step 2. Run the player, and insert the Blu-ray movie disc into the drive, the tool will load it automatically.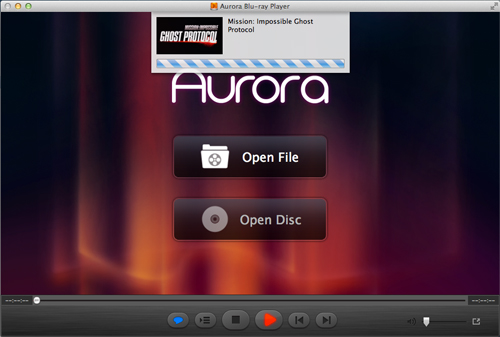 Step 3. Now you can enjoy the Blu-ray movies. You can control your Blu-ray playback like chapter choosing, subtitle/audio track switch via the top menu or the right click. All buttons/options are obvious and easy to understand.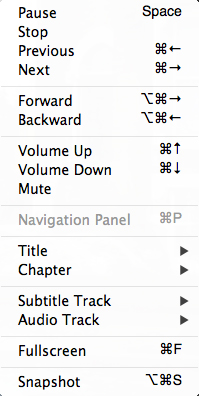 More features, just refers to the Aurora Mac Blu-ray Player for detail.
Related Tutorials: