How to play Blu-ray Disc with Windows Blu-ray Player?
Do you want to play Blu-ray discs on your Windows PC just as play it on your Blu-ray player? However, due to Sony's license on Blu-ray, it's rather bothered to play Blu-ray on PC, and Windows operating system is the only authored PC operating system to play Blu-ray. Unfortunately, you have to equip your Windows PC with a Windows Blu-ray player to realize your dream to play Blu-ray Discs on your Windows PC.
Aurora Blu-ray Media Player is your primary choice for you to play your Blu-ray discs because of its powerful functions in multimedia playback, the easy-to-use design and good after-sale service. Additionally, it can play Blu-ray Discs of all regions and all the 3 variations of Blu-ray Disc video formats: MPEG-2, AVC, and VC as well as other high definition video formats.
Let's take a detailed look at how to use this world's best Windows Blu-ray player.
System requirements:
Microsoft® Windows XP (SP2 or later), Windows Vista, Windows 7, Windows 8
Intel Core2 Duo 2.4GHz processor or equivalent AMD Athlon™ processor or higher recommended
512 MB RAM or higher recommended
250 MB of free disk space
An internal or external Blu-ray drive
Play Blu-ray Disc on Windows PC by Windows Blu-ray player
Step 1) Download Aurora Media Player and install it.
Step 2) Load Blu-ray Disc on your PC and run the Windows Blu-ray player
After you insert your BD into the Blu-ray drive, open Aurora Blu-ray Media Player, select "Cancel"(for unregistered version) and the Blu-ray player will play it automatically. It may need some time for the Windows Blu-ray Player to read your disc. Then you get an interface like this: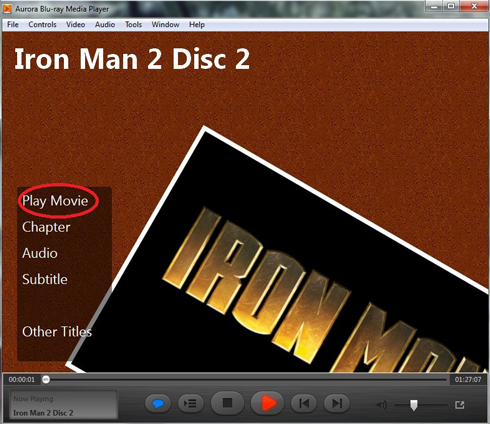 Click "Play Movie", you go straightly to Blu-ray movie playback. Before you click this playback button, you can firstly choose the "Chapter" and language of "Audio" and "Subtitle".
Step 3) Personalize your Windows Blu-ray player
3.1 Video size setting
Click "Video" on the panel of the Blu-ray player for Windows, you can decide what size you want for Blu-ray disc playback.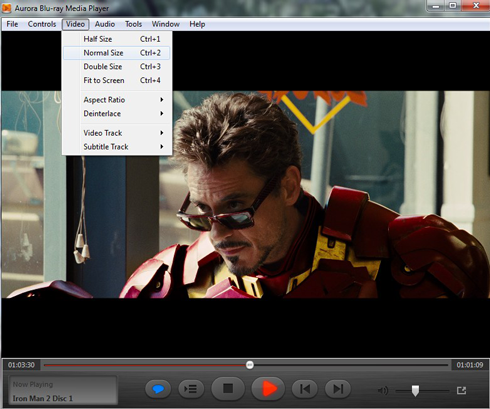 3.2 Full screen playback
Click

, you will enjoy your HD movie which is filled in the whole screen.
3.3 Change the interface
Choose "Tools→Preference→General→Main Screen" so that you can upload a picture in your computer as your interface background of Aurora Blu-ray Media Player.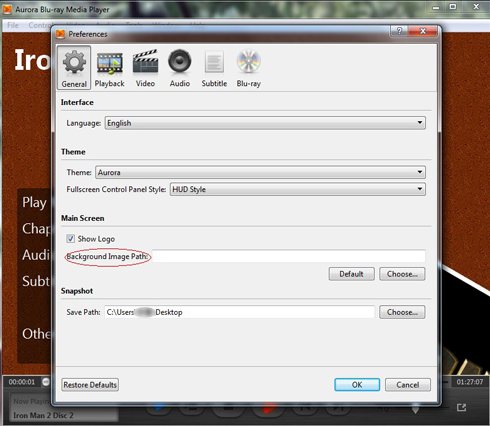 You can also Click "Window→Customize→Background" to change the interface background of the Windows Blu-ray player.
Free try Aurora Blu-ray Media Player