How to Use Blu-ray Burner Software to Burn Your Blu-ray ISO Files
Blu-ray content has been flooded everywhere into the multimedia market leaving HD DVD die in in his infancy and the 15-year leader in the market-DVD also stands between the beetle and the block. If you swear the words to be a Blu-ray fan and owns a high-def camorder and a lot of Blu-ray ISO files, you will need a Blu-ray burner software to let this precious memories last for good.
Aurora Blu-ray burner software is such an easy-to-use and free Blu-ray burner software which helps you burn your Blu-ray ISO files to Blu-ray Disc and also copy your Blu-ray Disc into ISO files which can store in your hardware for accidentally scratch.
With Aurora burner software all you can burn your Blu-ray disc with fantastic speed, lossless image quality and extreme ease.
Here we see how to use this powerful software to burn a Blu-ray Disc.
Software and Hardware Preparation
(1) Aurora Blu-ray Copy for Windows
(2) A recordable Blu-ray optical drive
(3) A blank rewritable/writable Blu-ray disc
Introductions
Step 1: Free download Aurora Blu-ray Copy for Windows and install it.
Step 2: Connect your Blu-ray optical drive with your Windows PC, insert the Blu-ray disc into the drive. Make sure that your computer is in a good network environment.
Note: If you want to make Blu-ray copy directly, you need two Blu-ray recordable optical drives to help you. Or you can backup first then burn with only one drive.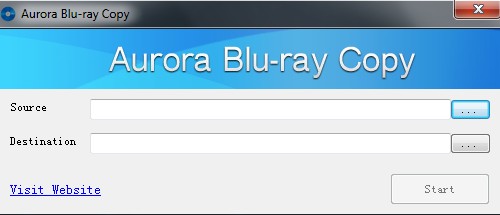 Step 3: Click on the "source" button and select the ISO image files you want to deal with.
Step 4: Click the "destination" button to choose the destination Blu-ray drive. Then click on the "Start" button to begin writing into your Blu-ray disc.
It may take some time for the Blu-ray copy to burn the Blu-ray ISO files which depends on the size of the file and configuration of your Windows PC.
Related Tutorials: