Free Mac HD Player – Play All Types of HD Media on Mac OS Lion
What way do you use to enjoy HD movies like 1080P on your Mac? Some users may use the QuickTime with some plugins like perian to deal with the High Definition; some just use the VLC to playback the HD videos on Mac easily. Here I just want to recommend you a more powerful Mac HD Player which can not only deal with the 1080P videos, but also the Blu-ray HD movies – Aurora Blu-ray player.
Aurora Blu-ray Player is an all functional stand alone Mac media player. It is very easy to use and you can enjoy HD 1080P movies like MKV, WMV, MOV, etc. directly on your Mac without any other third party applications. It is a must-have tool which allows Mac users to enjoy both Blu-ray and HD movies on their MacBook Pro, iMac, Mac Mini, etc.
Sometimes you can still not enjoy the 1080P movies because the ability for your Mac to play H.264/MPEG-4 High Definition HD video content also depends on its hardware capabilities. To play 1080p is more hardware intensive since it runs at 1920×1080 resolution, you will need at least the following Mac configuration to get roughly 25 frames per second:
* Dual 2.0 GHz Intel Core Duo or faster processor or highly recommended
* 512MB of RAM or more (2GB+ highly recommended)
* 128MB or better video card
How to Enjoy HD or Blu-ray Media on Mac OS X?
Step 1, Free download Aurora Mac HD Player and install it on your Mac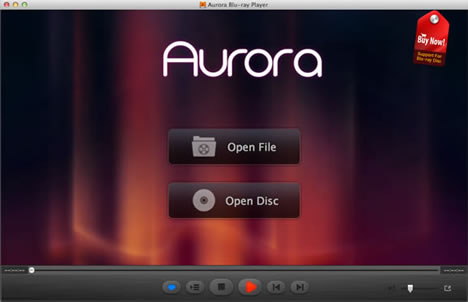 Step 2, Load HD MKV, HD MOV, HD WMV, etc. files by dragging and dropping into the player or you can also click "Open File" to load the movies you want to playback.
Note: If you are playing the Blu-ray movies, you must have a Blu-ray Drive connected and make sure the Internet Connection is well.
Step 3, Now you can enjoy the High Definition media on your Mac. Besides the Blu-ray HD playback, the Aurora Mac Blu-ray Player also allows users enjoy DVD, video, audio, etc.
Related Tutorials: