De-interlacing
What is De-interlacing?
Deinterlacing is the process of converting interlaced video, such as common analog television signals or 1080i format HDTV signals, into a non-interlaced form.
Interlaced video frame consists of two sub-fields taken in sequence, each sequentially scanned at odd and even lines of the image sensor; analog television employed this technique because it allowed for less transmission bandwidth and further eliminated the perceived flicker that a similar frame rate would give using progressive scan. CRT based displays were able to display interlaced video correctly due to its complete analogue nature. All of the newer displays are inherently digital in that the display comprises discrete pixels. Consequently the two fields need to be combined into a single frame, which leads to various visual defects which the deinterlacing process should try to minimize.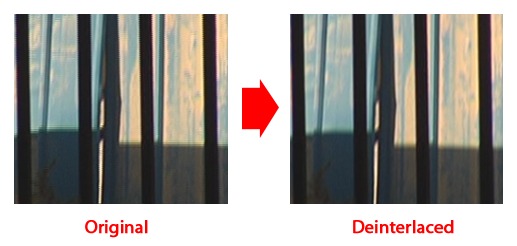 Interlaced Scan vs. Progressive Scan
Video displays use one of two scanning methods to draw the picture on the TV screen: interlaced and progressive. All HDTVs are progressive-scan displays — so even if the signal being sent to the HDTV is interlaced, the HDTV will convert it to progressive scan for display on the screen.
Here's what you need to know when comparing the two scanning methods:
Interlaced scan: Traditional TV systems (such as NTSC, the standard TV system in the United States) use an interlaced scan, where half the picture appears on the screen at a time. The other half of the picture follows an instant later (1/60th of a second, to be precise). The interlaced system relies on the fact that your eyes can't detect this procedure in action — at least not explicitly.
Progressive scan: In a progressive-scan system, the entire picture is painted at once, which greatly reduces the flickering that people notice when watching TV. Progressive scan is available throughout a range of TV types.
Deinterlacing Filter
Blend -- blends the two fields together.
Discard -- discards one of the fields and replaces it by interpolating the remaining field.
Line doubling -- takes the lines of each interlaced field (consisting of only even or odd lines) and doubles them, filling the entire frame.