How to Enable Blu-ray Playback on Mac OS X
Blu-ray discs aren't supported on Mac, and Mac Bu-ray playback software in OS X has been quite a complicated experience. Sure, you can rip Blu-rays, but that takes forever, and you want to watch it now. For the Mac fans, there is great news that Aurora Inc. has launched the first software - Aurora Blu-ray Player for Mac.
What you need for playing Blu-ray movies on a Mac computer?
A Mac, MacBook Air, MacBook Pro, Mac Mini, iMac or Mac Pro that running Mac OS X and later version
An external Blu-ray Disc Drive (Mac compatible)
Aurora Blu-ray Player, which can be downloaded from Aurora Donwload Center.
Guide
Step1. Connect to the Internet
Aurora works by managing Blu-ray license through the Internet, so when you insert a Blu-ray disc and open it, the software system will manage the Advanced Access Content System Keys and other content management features through Aurora servers. So you have to make Mac Blu-ray payback software connected into internet for playing BD movies firstly.
Step2. Download & Install Aurora Blu-ray Player
If you haven't yet done so, you'll need to install Aurora Blu-ray Player on your Mac first. In OS X, this is very easy: just download the installation package from Aurora official page and install it as you would any other program. The player is a simple drag-and-drop install.You then "insert," or "mount," the disk image into the machine by double-clicking the file.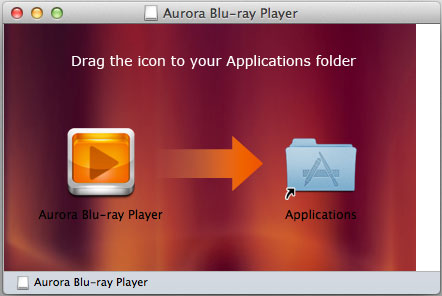 Step3. Install a Blu-ray Drive for Mac
To install a Blu-ray drive (next to an existing drive), you can consult your Blu-ray drive's user manual for how to do this.If you connect the drive with a USB, remember the USB should be 2.0 or above.
Step4. Apply Mac Blu-ray Playback Software in OS X
Aurora Blu-ray Player will recognize BD/DVD discs from drive, so it will find the videos files on the disc, chain them together and play them. You can also launch Aurora player and insert a Blu-ray disc into the Blu-ray drive. After network connection, the software will play automatically.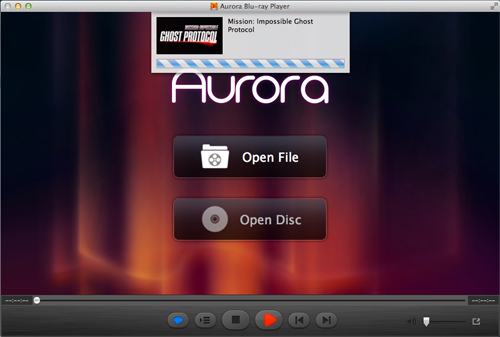 Note: When your Blu-ray playback, you can right click to control the play. For example, you can choose title, chapter, subtitle, adjust the volume and the screen size and so on.
Related Tutorials:
Copyright © 2011-2013 Aurora Software Inc. All Rights Reserved.