MPEG Player for Mac – Play MPEG/MPG Files on Mac
Have trouble in opening .mpg or .mpeg files in Mac? The QuickTime sometimes cannot find a suitable decoder for the file, you need download the necessary components for playback all kinds of MPG videos. So if you want to play MPEG video files in Mac (Mountain Lion) without any troubles, you'd better choose a powerful MPEG Player for Mac.
MPEG stands for Moving Picture Experts Group which specializes in the development of video and audio encoding standards. When you have come cross an .MPG or .MPEG extension, you usually have either MPEG-1 or MPEG-2 video. MPEG-1 video is used on VideoCD (VCD) discs and MPEG-2 video is used on Super VideoCD (SVCD) and DVD discs.
Aurora Blu-ray Player is an all-in-one Mac media player which allows users to Play MPEG/MPG Files on Mac without any difficulty. Besides all types of MPEG/MPG files like MPEG-1, MPEG-2, MPEG-4 Part 2, this MPG Player for Mac also can deal with DV, H.263, H.264/MPEG-4 AVC, HuffYUV, Indeo 3, MJPEG, RealVideo 3&4, Theora, VC-1, VP5, VP6, WMV, etc.
Download and installation
Download free MPEG Player for Mac from Aurora Download Center. Double click the installation file and drag the APP file to the Applications folder. Then launch the program.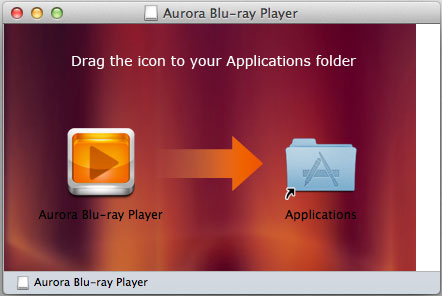 Before Playback
Aurora Blu-ray player is not only an all-functional video player, but also Blu-ray, DVD, Video CD and audio playing software. All codec are built-in, so you don't need to download third party plugins for playback video.
The only thing you should note is when you playback Blu-rays. As Apple never makes its computer supports the Blu-ray naturally. An external Blu-ray drive is necessary for read the Blu-ray disc. And you should make sure the Blu-ray disc loaded successfully at least once under an Internet Connection environment
Add and Play the MPEG/MPG files on Mac OS X
There are several ways to add the videos to the Player:
1. Drag the MPG/MPEG file you want to play to the player's window or onto its icon in the dock;
2. Right-click the video in Finder and choose "Open with". Then select Aurora Blu-ray Player;
3. Choose "File" option in Main menu, then - "Open File".
Enjoy watching your MPEG videos with Aurora Mac Media Player - Whenever you want to watch Blu-ray movies, HD movies, you got the right tool here.
Related Tutorials: