Free HD Media Player - Play HD video on PC?
Aurora Blu-ray Media Player, the free HD media-player, is the simple solution to playback your digital videos on your Windows PC. You have thousands of videos, pieces of music, and photos stored in your USB hard drive, instead of downloading different types of media player to ship with the type of formats, you can just use Aurora Blu-ray Media player- the best all in one media player to play all of your video formats freely.
It can not only play the video formats you download from Youtube and normal video formats: MKV, AVI, RMVB, FLV, WMV, MP4, DVD, VCD, MOV, MP4, WMA, AAC, AC3, etc, but also be able to play HD video media like: Blu-ray Disc, Blu-ray ISO files and HD DVD.
By using Aurora Blu-ray Media Player, you can watch videos only by clicking and dragging. How easy it will be!
Let's see how to use this all-in-one HD media player?
Step 1) Free Download Aurora Blu-ray Media Player from the download center
Step 2) Run the app and open the program you will see the main interface.
Step 3) Open your HD video format files by clicking either "Open File" button on the interface or "File→Open File".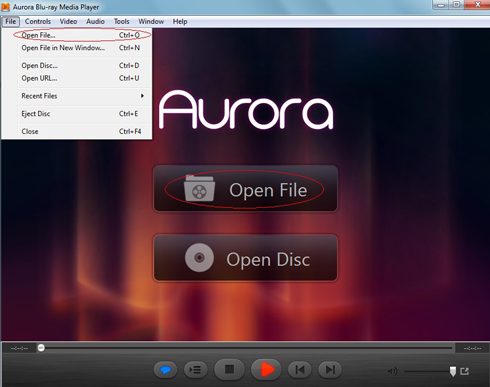 See the functions of Blu-ray Media player
Let's see differences between Windows Media Player and Aurora Blu-ray Media Player
Windows
Media Player

Aurora
Blu-ray Media Player

HD DVD
×
√
DVD
√
√
Blu-ray Disc/ISO
×
√
other video formats
√
√
Related Tutorials: