How to use Blu-ray Copying Software on you Windows 7?
As a Blu-ray fan, you may have a lot of Blu-ray Disc collections in your home, but for some reason, you don't want to play discs every time when you want to watch movies. Actually, to read a disc can cause a loss both to the disc itself and the Blu-ray drive. In this situation, a Blu-ray copying software comes to satisfy your need.
Blu-ray as a state-of-the-art technology offers you unprecedented HD experiences, brings cinema back to home. The 1080p high definition image and the most advanced DTS 7.1 will give you an extreme audio-visual enjoyment.
Now you can add brilliant to Blu-ray's present splendor by using the Blu-ray copying software. You store the disc in your computer and when you expect to watch movies just extract it from your own computer. Especially when this service is free, this seems to be more attractive.
However to do this job, you should make sure that your computer has a high configuration too complete this magnificent goal.
Let's see how to achieve this magic goal by using Aurora Blu-ray copy?
Step 1) Free download Blu-ray copy software and install it in your computer.
Step 2) Connect your Blu-ray drive with your computer and insert a Blu-ray disc
Step 3) Make sure your network is in a good condition and then we can get to start. You run the Blu-ray copying software and you will see the interface like this.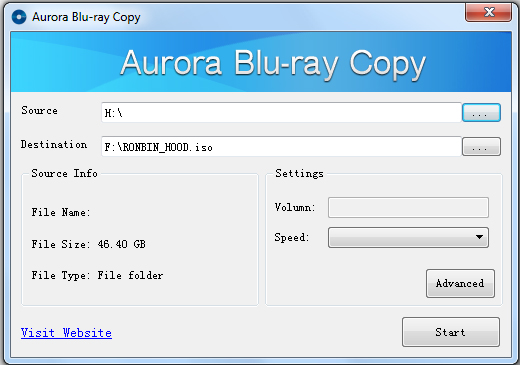 Step 4) Select the position of your Blu-ray disc as well as the destination area(50GB free space or more). You can rename your file. The copy file is with the extension name of .iso. You can watch it by a virtual drive like Daemon Tools, etc or you can choose Aurora Blu-ray Media Player to play your copied files.
Related Tutorials: