How to Play Blu-ray HD with HDTV Media Player Software?
High-definition video or HD video refers to any video system of higher resolution than standard-definition (SD) video, and most frequently surround display resolutions of 1,280 x 720 pixels (720p) or 1,920 x 1,080 pixels (1080i/1080p). It is gorgeous that if you can enjoy Blu-ray HD movies via you HTPC based on HDTV as the device can show better the high resolution of HD movies. Of course, you can use a Blu-ray player device to deal with Blu-ray disc, but it is far from Blu-ray player software plus Blu-ray drive which can not only play Blu-ray disc but also any other types of HD media files.
It is not easy to find HD media player software which can playback all kinds of high definition smoothly like Blu-ray, AVCHD, HDV, etc. So here I want to recommend you Aurora Blu-ray Media Player that can be used as perfect HDTV media player software. It is a standalone tool integrated all video codec. Users don't need to download or install any other third party plugins. The player is frigid and users can play all HD or Blu-ray on HDTV flawlessly! It is worthy to own it.
How to Play Blu-ray HD with HDTV Media Player Software
Before playback, you should make sure a Blu-ray optical drive installed with your HTCP computer. And you should use HDMI 1.4 or later to connecter your computer with the HDTV.
One, free download and install the Aurora Blu-ray HD media player on your computer.
Two, Insert the Blu-ray disc you want to deal with, and the player will read it automatically.
Note: To playback other HD media formats, you just need to drag and drop the files into the main screen of the tool for playback.
Three, there is no complicated operations for enjoy Blu-ray/HD media with Aurora Blu-ray media player. You can control the playback with right click shortcut. The tool offers the deinterlacing function which allows you to deinterlace 1080i video to get a more clearly visual effect, as below: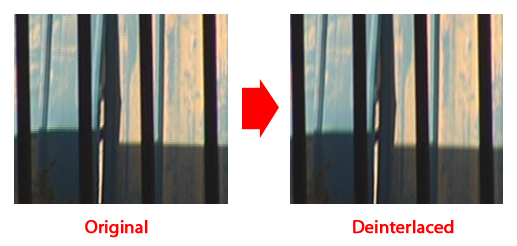 Related Tutorials: